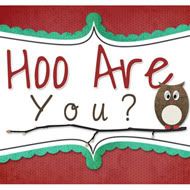 Here are this week's questions!
They all relate to Mothers


1. Are you a mom and if so how many kids do you have?
Yes! I am a mom of 5. I have 3 boys of my own plus a stepson and stepdaughter. They range in age from 14 years to 10 months.

2. List 3 qualities that you love about your mom!
She is independent, she has always supported our decisions even if she didn't agree with them, and she loves unconditionally.

3. What is your favorite thing your mother cooks?
Oh man, can I only pick one thing? My mom is an amazing cook, an ability that apparently is NOT genetic, I would say my favorite is her cakes.

4. What do you love about being a mom?
The laughs, the pride, watching my kids learn new things and seeing their individual personalities come out.

5. What are your plans for Mother's day?
Probably not much, I have to work that evening so I'm hoping maybe the hubs will take me out to lunch if we can get away for a little bit just the 2 of us.
Stay tuned for next week's questions and if you would like to join the fun, check out
Night Owl Crafting
each Tuesday!
Have a great week everyone!!