So I just realized completely missed last week's questions so I added them below today's questions.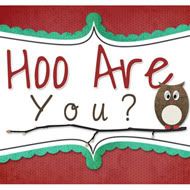 Here are this week's questions!
1. Do you pay your bills online or through snail mail?
Usually either online or over the phone


2. How many email accounts do you have?
Just one now
3. Do you use XM/Sirius, radio, ipod, CD, or etc.. in your vehicle?
CD and radio
4.

What shows are sparking your interest on TV right now?
I'm a reality TV junkie! I love Jersey Shore, Teen Mom 2, RuPaul's Drag Race, Jerseylicious (even though IRL those girls would so get on my nerves!) I also love Cold Case, Modern Family, How I Met Your Mother, and anything on Investigation Discovery channel.


5. Name 3 things that you think of when you hear the word "GREEN"!
Money, eco-friendly, grass
Here are last week's questions!
1. Do you make a budget and keep it, or just fly by the seat of your pants?
Ha, I just fly by the seat of my pants, I really should use a budget!
2. Do you do spring cleaning and if so which month?
No, I just clean whatever, whenever
3. Are you a yard sale lover and do you have them and go to them?
I LOVE yard sales and try to hit up as many as possible when the weather is nice, I am planning on having one here in the next month or so.
4. What do you take when you have a headache?
5. Name 3 things that you feel lucky to have in your life!
Other than my family, I will say my good health, friends, and freedom
Stay tuned for next week's edition, I promise I won't miss it again!
And for anyone that has been here before, do you notice anything different? Right
.
.
.
.
.
.
..................................................>
That's right yall! Killing Time is now on Facebook!!
If you have a few minutes, I would love for you to like me if you really do!
Have a great week everyone!