Big news everyone!
Killing Time has it's first sponsor! Yay! I am so excited about this and so happy to introduce you to the fabulous Chrissy from
Whimsical Poppysmic
and
Chrissy in America
. But if you've been around for a bit, you might remember her from
here
where she gave me an award.
In September 2010 after meeting and being inspired by so many talented ladies Chrissy rediscovered her love of all things crafty and started her blog
Chrissy in America
.

She especially loves knitting, embroidery, felt...all things whimsical! Chrissy also has her own Etsy shop
Whimsical Poppysmic
that she opened after showing some of her creations on her blog and seeing all the positive feedback she got!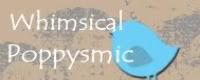 Chrissy in America
is full of great posts like
Friday's Fashion Statement
,
Saturday's Saying
and the popular
Awkward & Awesome
that I've seen around a few places.
I would specifically like to show off this embroidered bunting decoration she made for her craft area.
Isn't that fabulous??
And she has some great things in her Etsy shop
Whimsical Poppysmic
.
Like this
headband
This
Owl ornamnet
And if you know anything about me at all, you know I love skulls!!
Check out this felt
Skull phone case

So please welcome Chrissy to the Killing Time family everyone and please go have a look around, you might just find a new friend and something you can't live without!