Well I have missed a couple weeks but hopefully I am back on track now. Things have been super busy around here and well, my little ole blog just has to take a backseat sometimes..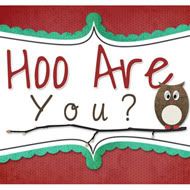 Here are this week's questions!
1. What is your favorite magazine?
2. What color are your eyes?
3. Do you go to the dentist on a regular 6 month schedule, or do you put it off?
4. Do you use anything to make your house smell good?
ex: candles, spray,etc...
5. Do you have any pets?
Here are my answers...
1. I don't really have a favorite, I do like the home ones Good Housekeeping Home & Garden and etc.. But I also love Us Weekly and the like, and who can forget good ole Cosmo??
2. Blue!!
3. No I don't go regularly, but I guess I'm one of the few people that actually enjoys going to the dentist, for the most part it is very calming for me.
4. I like to use candles not only for the smell but for the looks, and I use carpet fresh.
Stay tuned for next week's edition!
Have a great week everyone!