So I'm going to try to start doing this weekly link party that Jen over at
Life, Crafts, and Whatever
has just started. It seems pretty interesting, so if you're interested go get the details there!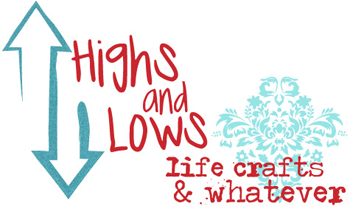 Highs...
I got a new job!!! And so far it seems pretty cool.
I also found out I will have Tuesday off, which means I will be able to go on my son's field trip with him. But stay tuned to next week, as that will be my first day off after 7 days working and it will be spent at the zoo with a bunch of 1st graders, this may be on the low list next week.. ;)
Mr. K's 9 month check up went great!
I finished up the giftset I made for a donation in the Project Kids Raffle
Lows...
Because of above mentioned new job, I've had/have to wake up at 4:30 am... WTF?? I'm barely able get up at 6:30 to get the kids off to school as it is. Then next week my schedule changes and I will be working the 3rd shift. 10 pm to 6:30 am.
I started orientation on Monday and I don't have a day off til Tuesday.
Also because of new job, I've gotten in no crafting time and my planned re-do of my utility/laundry/storage/catch-all room into my crafting/sewing area has been put on hold.
So that's it for this week, yes I know most of it is job related, but well hey, that has been pretty much all I've done this week.
I hope to have something a little more interesting next week.