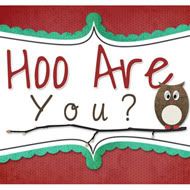 Here are this week's questions!
1. Do you plant a garden or flowers, or neither?
Usually neither, though I would love to try a small little flowerbed this spring
2. Does it bother you to have your blinds or curtains
open after dark so people can see in your house?
3. Do you like to go camping?
I do like camping but only for a day or two at a time. One of my greatest memories of when I was a kid, was going camping with the whole family.
4. Do you have a laptop or a desk top computer?
5. What time during the day do you have your most energy?
Usually around mid-morning or so
If you would like to join the Hoo Are You party and link up your answers check it out here