Welcome to another week of Hoo Are you?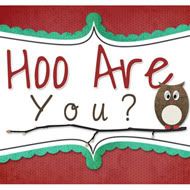 Here are this week's questions!
1. Are you married/in a relationship/single? For how long?
I am in a relationship, yes I know I call him hubby on here all the time, but no we are not married, yet... We have been together for about 2 years.
2. What do you do for a living? Do you enjoy it?
I am a stay at home mom, yes I enjoy it very much. There are times were I miss working outside the home, the adult interaction, making "my own" money,etc. but I would choose staying home over a job anyday.
3. In what state do you live? Where were you born and raised?
Oklahoma. I was born in Memphis TN and raised partly in Oklahoma and partly in Mississippi.
4. Do you have children? If so, how many? If not, do you want them?
Yes, I have 3 boys myself S, T & K, and a step-daughter Miss B & step-son Lil B.
5. Who is your favorite blogger to follow and why?
I honestly cannot pick just one favorite, there are so many I love!
Stayed tuned for next week's edition!