Welcome to this week's edition of Hoo Are You?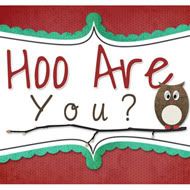 Here are this week's questions!
1. What did you get/give for Valentine's Day?
I received a single red rose and some chocolates, then Big B took me out to dinner. I gave him a framed p.s. I love you note like the one made famous by
Flamingo Toes
2. Do you have a vacation planned in the next couple of months or in the summer?
We are planning to go to Fayetteville AR in September for Bikes, Blues, & BBQ, so probably not much going on for the next few months.
3. What is one thing you do to pamper yourself?
I will occasionally go get the super deluxe pedicure. Cooling lotion, hot towels and a calf massage, need I say more?
4. What sparks your interest to other people's blogs?
A sense of humor, fun easy crafts, and real-ness
5. What kind of a mood are you in today
?
A weird kinda all-over-the-place, happy, stressed, energetic mood.
If you like this and want to get in on the fun, check out
Night Owl Crafting
every Tuesday!
Have a great day everyone!